Board Elections
NL, University City, D21
February 7th was a special day for University City Key Club as we hosted our annual officer board elections! During our meeting, dedicated key club members ran against each other in hopes of captivating the audience's attention and winning each and every one of their votes. The elections started off strong with speeches from both secretary candidates and ended with an impressive and passionate finish from our vice president and president candidates. Throughout the elections, candidates intrigued their audience through impressive facts about themselves, funny jokes, and their promised plans for the future. All in all, the elections ended up being a success and University City High can't wait to start the new term strong and determined.
Valentines' Day Card Making
MC, Westlake, D42E
Westlake High School Key Club always enjoys participating in various service events, and this month's event was particularly meaningful. With Valentine's Day coming up, WHS Key Club made Valentine's Day themed cards for the senior citizens at Silverado Memory Care. Students decorated cards during our lunch meetings using colored paper, markers, colored pencils, and stickers. In these cards, students would also write messages for the seniors. Moreover, students had the opportunity to help drop off their completed cards at Silverado in Thousand Oaks. Having a service opportunity during our Key Club meetings was a good idea, as many people were willing to participate. Students could attend our weekly meetings while also having the chance to receive service hours. Because of the success of this service event, it is likely that we'll do another activity like this in the future. Overall, this service opportunity was enjoyable and especially meaningful because we were able to spread love and joy around the holiday!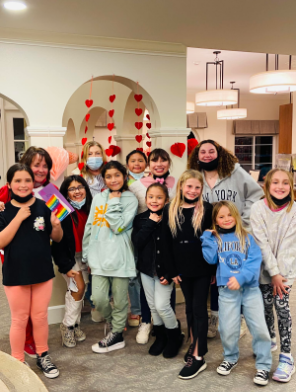 Discord Game Night
CB, Damonte Ranch, D23
The Discord Game Night with the Yetis was exhilarating and fun! We participated in many minigames in Roblox, and Among Us. I enjoyed being with my friends and being able to express joy with other yetis while getting to know new people! We shared countless laughs, and I hope to do this again sometime in the future!